Office Cleaning in Toowoomba
Comprehensive Office Cleaning Services
At Substantial Cleaning, we're all about giving you a neat and tidy workspace, regardless of the type of office you work in. Whether you're in a typical office building or a specialised space like a medical office, we understand your unique cleaning needs and are here to tackle the job of getting your space back in shape with our friendly, professional touch. Our skilled cleaners excel at a variety of tasks, including office upholstery cleaning services, high-pressure cleaning, and window cleaning. Our mission is to give your workspace a thorough clean – from office chairs to door handles and all the other high-touch surfaces in your office.
Call Us Today for Instant Bookings
Maintaining a consistently clean and sanitary office space is crucial – and that's where we step in. Here at Substantial Cleaning, we're proud to offer top-notch cleaning solutions at budget-friendly prices in Toowoomba. Give us a call at 0433 845 526, and let's chat about how our seasoned team can fulfil your specific office cleaning requirements with attentiveness and care.
COVID-19 Considerate Cleaning
In the face of the Covid-19 pandemic, the focus on cleanliness and hygiene is stronger now than ever. To help keep everyone safe, we offer extensive cleaning services that follow Covid-19 cleaning rules and infection control guidelines. Our team crafts a meticulous cleaning plan just for your office, ensuring we provide comprehensive care for your workplace at a reasonable price.
Features of Our Professional Office Cleaning in Toowoomba
Trustworthy and Confidential Service At Substantial Cleaning, your office's security and the confidentiality of any sensitive information is our priority. We conduct thorough background checks on our cleaning team, ensuring their trustworthiness and reliability. We recognise how vital a secure service is and have set up strict security measures to protect your office environment. Opting for our commercial cleaning services means you can breathe easy, knowing your office is in safe and skilled hands. Our reliable cleaners use the newest techniques and follow industry-standard practices while also strictly following our security protocols. We're committed to delivering transformative cleaning services, all while keeping your office's security and privacy at the forefront of our service.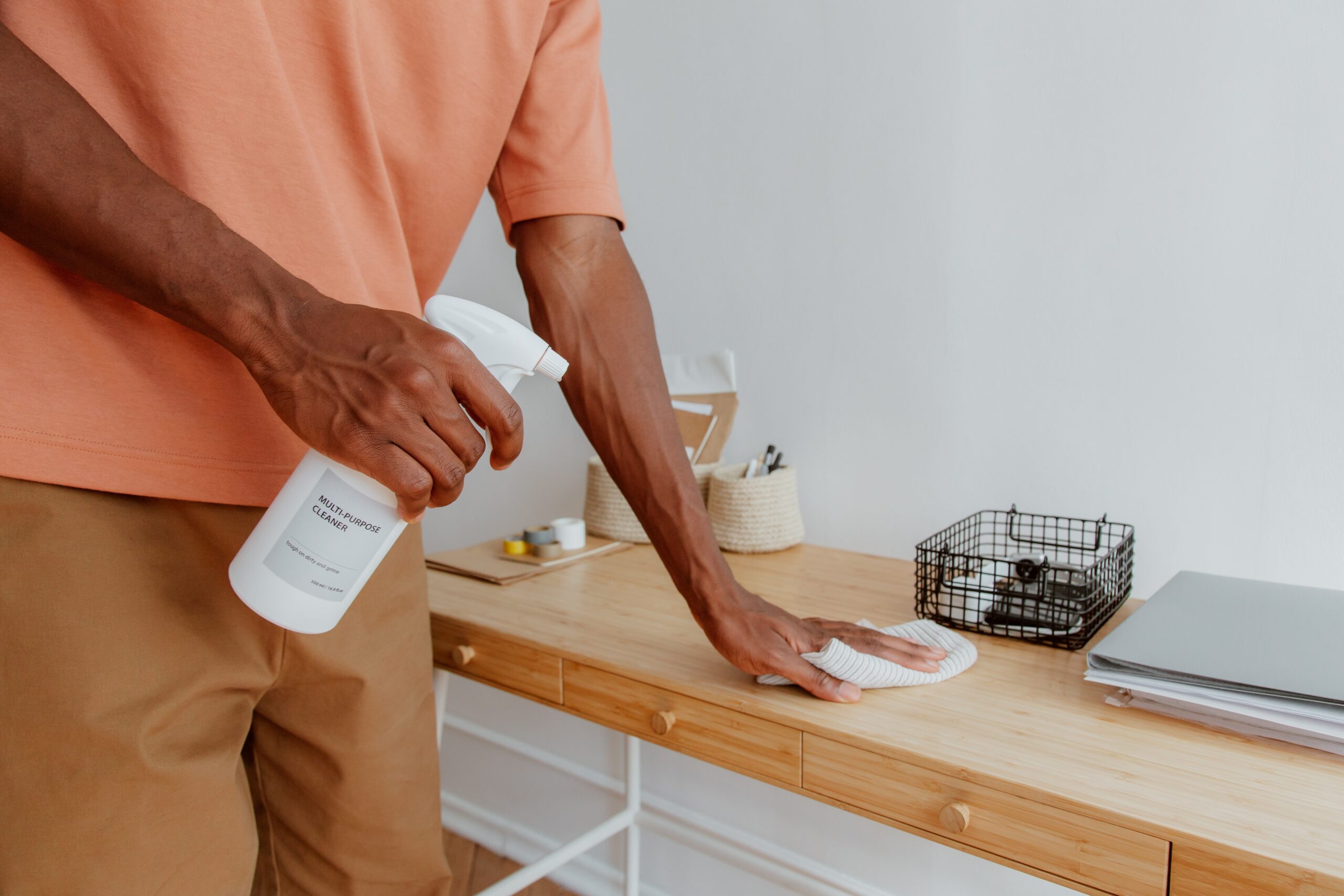 Customised Solutions and Flexible Cleaning Timetables
Here at Substantial Cleaning, we offer cleaning solutions custom-tailored to your office's specific needs. Our Toowoomba-based office cleaners excel at conducting detailed inspections of your workspace, ensuring every corner gets the attention it needs to leave your office looking pristine and spotless. We understand how important a flexible cleaning schedule is for your office, which is why we offer cleaning timetables that can be adjusted to fit your business hours, minimising workplace disruptions. Whether a daily, weekly, or monthly cleaning fits your needs, we'll devise a schedule that aligns with your specifications. Our goal is to give you a seamless cleaning experience that effortlessly integrates into your company's operations, leaving you with a clean and welcoming office environment unhindered by our work. Reliable Customer Service: Our friendly customer support team is ready and waiting 24/7 to help you with your cleaning needs. Feel free to give us a call if you have any questions about what we do, or to schedule our cleaning services in advance. We have a team of professional cleaners trained to handle large-scale buildings, who use eco-friendly solutions to remove dirt and allergens. For free quotes about our office cleaning services, don't hesitate to get in touch with us at 0433 845 526.
Ready for a spotless, inviting office space that boosts productivity and impresses clients? Contact Substantial Cleaning today for a customised cleaning solution tailored to your needs!
Our Office Cleaning Service Inclusions
Expert Floor Maintenance
Our highly skilled team caters to a variety of office floor types, including hardwood, tile, and laminate. We deliver expert floor management services, such as vacuuming, mopping, buffing, and polishing, to keep your floors looking their best.
Thorough Restroom Sanitizations
Hygiene and cleanliness in restrooms are critical for the welfare of your employees and guests. Our team meticulously cleans and disinfects all restroom elements, fixtures, and amenities, promoting a safe, clean environment.
Kitchen and Breakroom Sanitation
Keeping your kitchen or breakroom clean and tidy contributes to a healthier, more enjoyable workplace. Our team takes the responsibility of cleaning and sanitising kitchen appliances, countertops, sinks, and other spaces, providing your staff with a hygienic area for their breaks.
Upholstery and Furniture Care
We don't just take care of your office space but the upholstery and furniture inside of it, too. Our experienced professionals use appropriate cleaning procedures and products to remove stains, odours, and allergens from furniture and upholstery, restoring their freshness and appeal.
Window and Glass Care
Clean, streak-free windows contribute to an aesthetically pleasing office and let in plenty of natural light. Our cleaning professionals are experts in window and glass cleaning, using techniques that guarantee spotless, clear windows, thus enhancing the visual charm of your workspace.
Guarantee of Satisfaction Backed by Industry Experience
Our goal is your satisfaction, and we're here to go above and beyond with our office cleaning services. If, for any reason, our work doesn't leave you satisfied, please don't hesitate to let us know. We value your feedback tremendously, and we'll spring into action to put things right and make sure you're more than happy with our work. Our experience in the cleaning industry has given us an abundance of priceless knowledge on how to get your space looking fantastic. By keeping up with the latest trends, techniques, and innovations in office cleaning, we aim to provide stellar service each time we clean your workspace, and our dedication to constant improvement is reflected by our ongoing staff training. By staying ahead of the curve, we employ only the most effective cleaning practices, guaranteeing the highest quality service and superior results for your office.
Professionally Trained Cleaners Delivering Exceptional Service
Here at Substantial Cleaning, our experienced cleaners are devoted professionals rigorously trained to deliver exceptional quality cleaning for your office. Armed with modern techniques and state-of-the-art equipment, our cleaners are experts in the best industry cleaning practices. Their expertise and commitment to providing continuous remarkable service can let you rest easy knowing that your office is in reliable hands. We understand how crucial a clean and orderly workspace is, and recognise that a clean workspace not only increases employee productivity, but also leaves a lasting impression on your visiting clients. We're committed to delivering exactly that, and will make sure to meticulously clean your office until it's just as spotless as the day you moved in. With our extensively trained and experienced cleaners, you can look forward to a phenomenal office cleaning service that goes above and beyond your expectations.
Are you seeking an eco-friendly, professional cleaning service that prioritises your office's cleanliness without compromising the environment? Substantial Cleaning is your solution – contact us today to learn more!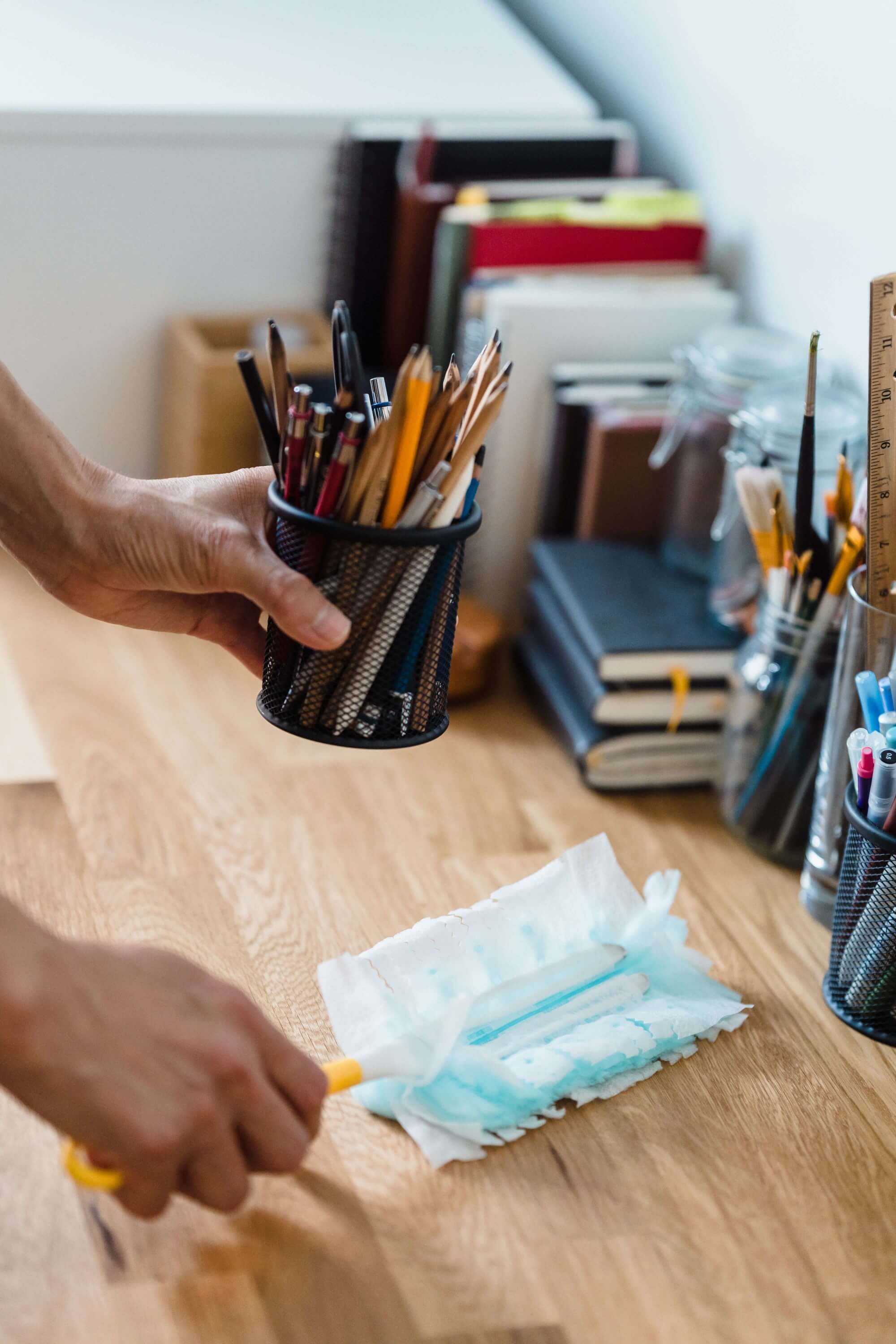 Health and Safety Compliance
At Substantial Cleaning, we place utmost importance on the health and safety of our workforce and your employees. To ensure this, we uphold rigorous health and safety standards, implementing thorough measures for a secure work environment. Here's how we commit to health and safety: At Substantial Cleaning, we place the health and safety of our staff and your employees at the top of our list. To make sure of this, we uphold strict health and safety standards, introducing thorough measures for a safe work environment. Here's how we commit to health and safety:
Safe Handling of Cleaning Chemicals
Our cleaning staff are extensively trained in safe handling, storage, and use of cleaning chemicals. Knowledgeable about the potential risks of various cleaning substances, they strictly follow established guidelines, thus mitigating accident risks and exposure to harmful substances.
Provision of Personal Protective Equipment (PPE)
Our cleaners' safety is paramount to us. We equip them with necessary personal protective gear, including gloves, masks, goggles, and aprons. Proper training in PPE use ensures their protection from potential hazards during cleaning assignments, fostering a safe work environment.
Enforcement of Safety Procedures
We enforce robust safety procedures to minimise risks and uphold a secure work environment. Our team adheres to strict guidelines, reducing accident possibilities, preventing injuries, and guaranteeing safety for all parties involved. These protocols include safe handling of equipment, electrical safety, and general workplace safety.
Commitment to Continuous Learning
We champion continuous learning and staying current with evolving health and safety practices. Regular training sessions keep our team updated, enhancing their skills in health and safety compliance. This commitment keeps us at the cutting edge of industry standards, ensuring the safest cleaning operations.
Eco-Friendly Cleaning Approach
We're big on sustainability and environmental health, which is why our office cleaning services incorporate eco-friendly practices and products whenever possible. By using green cleaning solutions, reducing water usage, and conserving energy, we're devoted to lessening our environmental footprint. With our commitment to sustainable cleaning, you can rest assured that our services not only foster a cleaner, healthy workspace, but also contribute positively to a greener future.
Enduring Client Partnerships
At Substantial Cleaning, we value the lasting relationships we cultivate with our clients. Our goal is to form solid bonds grounded in trust, reliability, and mutual understanding. Choosing us to complete your office cleaning needs means you can count on our unwavering dedication to maintaining consistent quality and exceptional service throughout our partnership. We're excited to be your go-to cleaning partner, and offer trustworthy, skilled cleaning solutions that don't just meet your needs, but exceed your expectations.
Other Services We Offer
We're proud of our service to our local area, and strive to offer dependable and trustworthy commercial office cleaning services to those in our Toowoomba community. We strive to provide swift and effective services all throughout our region, and are here when you need us to help keep your workspace hygienic and sparkling clean.
Alongside office and commercial cleaning, our adaptable team has a knack for industrial cleaning. We understand that industrial spaces require a unique set of cleaning strategies, and we're more than ready to accommodate these requirements. From steam cleaning to pressure washing, we use efficient methods to guarantee a clean and safe industrial environment.
Desiring flexible cleaning schedules that adapt to your office's operational hours and minimise disruptions? Get in touch with Substantial Cleaning and discover the seamless cleaning experience we offer.